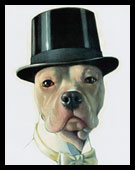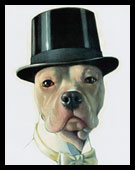 About Our Kennel


We are a small kennel, located in north central Fl.
And have been involved with the American Pit Bull Terrier
for over ten years. Both of us grew up around the breed, and are now
raising our children around them.
Our dogs are socialized from a early age with children and other people.
We also try to represent the breed in a positive way, by educating about the breed,
and participating in A.D.B.A. sanctioned conformation and weight pull events.
We have a few on there way to Ch and GrCh status.
Our main objective in breeding is to preserve the game bred dog.
Not for any specific color or size, and not to sell puppies,
but for gameness, temperament, and conformation. Just a few of the things
that make this awesome breed. This a only a hobby for us, not how we make a living.
We keep most of what we breed to see what works, and what to look for,
but on occasion, or in the case of a big litter we will have a few for sale.
Our bloodlines include Sorrells', Eli, Bowles, and GrCh Boogieman
with crosses of each. That sums it up.
Thanks for stopping by!
Any comments or questions are welcome
just drop us an e mail!





E mail